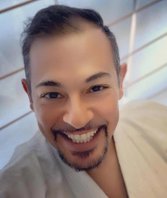 Alfonso Torregrossa Sensei
(born in 1971 in Caltanissetta - Italy) name in Japanese : Kensei 賢聖 , he started martial arts at the age of 4 years , is a professional martial artist and world-renowned instructor of Daito Ryu Aikijujutsu , Aikidō , as well as an expert in Goshinjutsu (護身術; self-defense techniques - Kapap face to face combat and taihojutsu 逮捕術 arresting techniques) and Instructor of Karate Kyokushinkai. He is also known as the founder and chief instructor of Tenshindo , he is also known as the founder (Kaiso - So Shihan ) and chief instructor of Tenshindo recognized by the International Martial Arts & Culture Federation 盟 武術 文化 連 盟 , Osaka, Japan , a modern system of traditional samurai studying the theory and applied principles of aikidō, aikibujutsu, goshinjutsu , and in general as a martial artist of extraordinary background and surpassing dedication and skill. In addition, he has received widespread recognition for his efforts toward reviving traditional and effective martial arts practice, which has had lasting influence on the martial arts community.
Alfonso Torregrossa to this day he possesses a strong knowledge of traditional Japanese culture as a result of his studies in the art of Budo. The Deputy Minister of Japanese Defence also honoured him with an award for his worldwide promotion of Budo. He has conducted and still conducts seminars in different countries such as: Germany, Austria, France, England, Belgrado , Switzerland, Spain, Portugal, Macedonia, Czech Republic, Bulgaria and Japan . Periodically he conducts intensive courses and training courses for instructors. Alfonso Torregrossa has studied martial arts and japanese philosophy for over 40 years.
My teaching philosophy is to be convey joy , positivity , passionate, enthusiastic, and engaging every time that I give a lecture so students are excited to learn more about and become active . My role as an educator is to creating men of value able to change the world for the better .